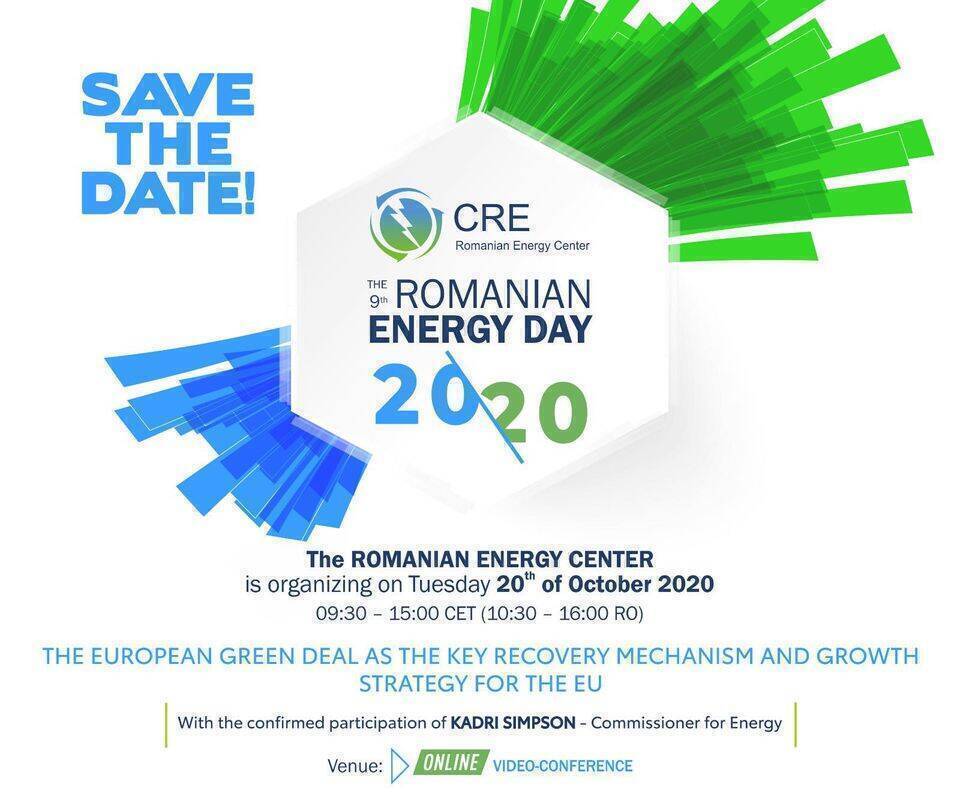 Asociatia Centrul Roman al Energiei (CRE) organizeaza a 9-a editie a conferintei Romanian Energy Day in ziua de marti 20 octombrie 2020 in sistem de video-conferinta
Avand participarea confirmata a Comisarului pentru Energie Kadri Simson, evenimentul a devenit principala platforma de dezbatere si cooperare regionala dintre industria energetica din Romania si Europa de Sud-Est si decidentii politici de la Bruxelles.
Intitulata "Pactul Ecologic European ca principal mecanism de redresare si strategie de dezvoltare al Uniunii Europene", conferinta din acest an este construita în jurul cadrului de dezvoltare al sectorului energetic european post-2020, al provocărilor financiare și de infrastructură, precum și al perspectivelor industriei energetice românești cu privire la tranziția către o economie cu emisii reduse de carbon, toate acestea avand ca scop furnizarea de energie curată și accesibilă pentru generatiile urmatoare.
Uniunea Europeană se reinventează prin angajarea în cel mai ambițios proiect de la începuturile sale. Obiectivul de a deveni primul continent neutru din punct de vedere al emisiilor de carbon presupune traversarea de "teritorii neexplorate" și va testa puternic coeziunea statelor membre. De la coalizarea elitelor politice către obiective comune, până la revoluționarea capacităților tehnice și consolidarea coeziunii și acceptării sociale, Pactul Ecologic European este în perfectă simbioză cu proiectul Uniunii Energiei. Fiind un proiect de maximă importanță după BREXIT, Pactul Ecologic European va reafirma relevanța Europei în lume, în același timp reducând decalajul cu structurile politicii locale.
Mai mult, pandemia SARS-CoV-2 a testat serios capacitatea globală de a face față unor situații de urgență majore. Impactul economic este mai sever decât efectele ultimei crize financiare, prin urmare bugetele statelor membre au fost testate serios.
Industria energetică va ieși semnificativ schimbată din criza SARS-CoV-2. Trei piloni cheie devin din ce în ce mai relevanți pentru reziliența companiilor, competitivitatea economică și în cele din urmă pentru securitatea aprovizionării, anume (1) tehnologiile digitale, (2) rețelele inteligente și (3) tehnologiile de generare curată (cât mai direct posibil) legate de consumatori. Acestea creează premisele pentru energie curată, disponibilă și accesibilă pentru generatiile urmatoare.
Astfel, conferinta va incerca sa adreseze intrebari precum: este proiectul Pactului Ecologic European in grafic, cum sunt adresate provocarile de natura financiara ale infrastructurii energetice a viitorului precum si capacitatea Romaniei de a integra in politicile nationale a pachetelor Europene privind energia si clima?
Mai jos, programul conferinței
9th ROMANIAN ENERGY DAY
THE EUROPEAN GREEN DEAL
AS THE KEY RECOVERY MECHANISM AND GROWTH STRATEGY FOR THE EU
Date: Tuesday 20th of October 2020, 09:30 – 15:00 CET (10:30 – 16:00 RO)
Venue: ON-LINE VIDEO-CONFERENCE
DRAFT AGENDA
09:00 – 09:30 CONNECTION TO THE ZOOM PLATFORM
09:30 – 10:30 INTRODUCTION, WELCOME SPEECHES & POLITICAL STATEMENTS
European Union is reinventing itself by embarking in its most ambitious project since its inception. The goal to become the first carbon neutral continent is taking on uncharted teritories and will definetly test the cohesion of its member states. From uniting political elites towards common goals, to revolutionise the technical capabilities and strenghten the social cohesion and acceptance, the European Green Deal is in perfect symbiosis with the Energy Union project. Being a project of utmost importance post BREXIT, the European Green Deal will reafirm Europe's relevance in the world while bridging the gap with the local politics'structures.
Moreover, the SARS-CoV-2 pandemic has seriously tested the global capacity to deal with major emergencies. The economic impact is more severe than the effects of the last financial crisis, hence the budgets of member states have been seriously tested. Is the Green Deal on track?
Corneliu BODEA, President, Romanian Energy Center
Kadri SIMSON, Commissioner for Energy, European Commission
Virgil POPESCU, Minister, Ministry for Economy, Energy and Business Environment of Romania*
Luminiţa ODOBESCU, Ambassador, Permanent Representative of Romania to the European Union
Johannes HAHN, Commissioner for Budget, DG BUDG, European Commission*
Tudor CONSTANTINESCU, Principal Advisor to the Director General for Energy, European Commission
Dacian CIOLOŞ, Member of the European Parliament and Chair of Renew Europe Group*
Cosmin MARINESCU, Presidential Adviser, Department of Economic and Social Policies, Presidential Administration of Romania*
10:30 – 12:00 PANEL DISCUSSION
MAKING THE EUROPEAN GREEN DEAL POSSIBLE – THE FINANCING & INFRASTRUCTURE CHALLENGES
"Fortuna adiuvat – Fortune favours the strong".
The extraordinary commitment of the European political elite towards carbon neutrality by 2050 is sending a clear and strong message of the pledge taken by Europe to preserve its relevance abroad, whilst assuring the wellbeing of its citizens in an environmentally benign manner. Making the European Green Deal a reality will involve, besides the full involvement of member states, unprecedented levels of investments. The European Green Deal Investment Plan is set to mobilise at least € 1 trillion in sustainable development over the next decade, of which the Just Transition Fund makes available € 100 billion for the fair and just transition for the period 2021-2027.
The economic realities after the SARS-CoV-2 pandemic will massively strain the European Union's and its members' budgets as well as their ability to reshuffle initial strategies and action plans. New mechanisms meant to ensure smooth economic recovery and resilience, such as the Next Generation EU[1], are meant to transform present challenges into opportunities.
The energy industry will emerge significantly changed from the SARS-CoV-2 crisis. Three key pillars are increasingly becaming of salience for companies' resilience and economic competiviness, affordability and ultimately for security of supply, (1) digital technologies, (2) smart networks and (3) clean generation technology (as directly as possible) linked with consumers. These create the premises for clean, available and affordable energy for the next generation.
According to the International Energy Agency[2], the global energy investments are set to fall, as a result of the SARS-CoV-2 crisis, by 20% or almost USD 400 billion in capital spending compared with 2019, the largest decline on records. Some sectors, such as oil & gas witness even higher declines of around one third, compared to 10% for power sector and renewables and 9% for electricity networks. Overall, the share of energy investments in GDP fell at 2%, compared to 3% in 2014. These declines, besides the severe impact on the private and state owned energy companies, have a knock-on effect also on energy related government revenues.
One very important aspect of the EU energy policy is linking the energy infrastructures of member states, salient aspect for the energy and climate targets for 2030 and for the long-term decarbonization goal. For this purposes, the European commission is revamping the Regulation (EU) no 347/2013 ( the TEN-E guidelines).
MODERATOR:
Francesco GAZZOLETTI, Managing Partner, FortyEight Brussels
KEYNOTE SPEECHES:
Siegfried MUREŞAN, Member of the European Parliament, Group of the European People's Party, Rapporteur for the European Green Deal Investment Plan*
The fundamental rights to a safe, clean and sustainable environment and to a stable climate for all European Citizens
Cristian BUŞOI, Member of the European Parliament, Group of the European People's Party, Chair of Committee on Industry, Research and Energy*
The European Green Deal for Romania – Financing, Strategies, Challenges and Solutions
Dan NICA, Member of the European Parliament, Group of the Progressive Alliance of Socialists and Democrats*
The Key Role of the local authorities in Energy Transition Projects to facilitate the emergence of new economic activities at regional level (Gorj, Galaţi, Dolj, Hunedoara, Prahova and Mureş)
Dumitru CHIRIŢĂ, President, Romanian Energy Regulatory Authority*
Smart Regulation for Digitalising the Energy Sector in Romania
Cristian BADESCU, Special Representative of the Ministry of Foreign Affairs of Romania on energy security*
Capitalising upon indigenous energy resources, key element towards achieving the EU's carbon neutrality target by 2050   
PANEL DISCUSSIONS:
Kristian RUBY, Secretary General, Eurelectric*
Hervé LAFFAYE, President, ENTSO-E*
Christian ZINGLERSEN,Director, Agency for the Cooperation of Energy Regulators – ACER*
Joachim BALKE, Head of Unit Networks and Regional Initiatives
12:00 – 12:15  – Q&A SESSION
12:15 – 12:30  – COFFEE BREAK AND REFRESHMENT
12:30 – 14:00 INDUSTRY SESSION
LOOKING AT THE BIGGER PICTURE – A 360 DEGREES VIEW OF ROMANIAN ENERGY INDUSTRY'S RECONVERSION
Carbon neutrality is Europe's most ambitious goal since the European leaders drafted the European Coal and Steel Community 70 years ago in order to secure political peace and restore the economy. Now, The Green Deal is pushing the boundaries of the cohesion among its member states and their relations on the international arena. The European competitiviness is the sum of its member states' competitiviness, consequently this panel attemps to descifer Romania's ability to address the European Green Deal and adapt it to its energy reality, by bringing into the debate the actors of change, the energy companies active in the Romanian energy sector.
MODERATOR:
Răzvan NICOLESCU, Partner, Energy & Resources Industry Leader, Deloitte Central Europe*
SPEAKERS:
Anca DRAGU, Deputy Director General, E.ON Romania
Ondřej ŠAFÁŘ, Country Manager, CEZ Romania
Christina VERCHERE, CEO, OMV Petrom*
Carlo PIGNOLONI, CEO, ENEL Romania and President RWEA*
Bogdan BADEA, President of the Board, Hidroelectrica*
Cosmin GHIŢĂ, CEO, Nuclearelectrica*
Daniel BURLAN, President of the Board, Complexul Energetic Oltenia*
Catalin NIŢU, President of the Board, Transelectrica*
Roland JUNCK, President, Liberty Steel Group
14:00 – 14:45 Q&A SESSION
14:45 – 15:00 CONCLUSIONS AND FINAL REMARKS
*Invited, confirmation expected
[1] https://ec.europa.eu/commission/presscorner/detail/en/ip_20_940
[2] https://www.iea.org/reports/world-energy-investment-2020/key-findings#abstract